On December 01, 2016, PetroVietnam Exploration Production Corporation (PVEP) officially completed its 2016 production plan assigned by PetroVietnam for 30 days.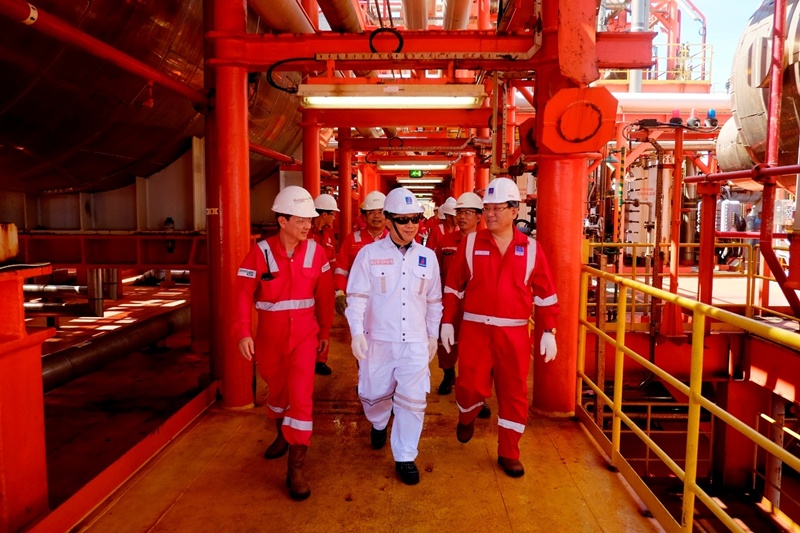 The PVN Leaders and PVEP General Director Ngo Huu Bai in field inspection
According to information from PVEP, in 15h30 on December 01,2016 the Corporation completed its 2016 plan with 5.15 million tons of equivalent oil, among that oil production expects to reach 4.20 million tons in coming week. PVEP also anticipates to complete an additional plan of 0.20 million tons before December 17,2016, and to reach 5.45 million tons of equivalent oil as106 % of the year plan by December 31, 2016.
To participate in this success, PVEP POC – an important member of PVEP had completed production plan of Song Doc field on November 25, Dai Hung field gas collection project on November 27 and Dai Hung field on November 29. Regarding gas production, PVEP had completed output of 1,150 million cubic meters by November 11, 2016.
The reasons of the achieves were: i) regular exchanges between PVEP and petroleum exploitation managers on mining development activities, optimal management solutions and absolutely save guarantee, ii) PVEP extreme exerting strength with an active, prompt and flexible spirit in implementing additional plan assigned by the government. iii) PVEP implementing series of measures to increase production output as additional drilling SNS-6P well under CLJOC project; preventing water partition, opening more new seams, treating acid and salt and optimizing exploitation regimes of the projects in HLJOC, TLJOC, POVO, PM3 CAA, Algeria, iv) good care for exploitation equipment to maintain effective production activities at a high intensity without the breakdown.
To keep stability in production and business activities in context of a depth decrease of the oil prices in the would, PVEP had conclusively deployed the overall measures of finance and promoted innovative activities, checked and optimized costs… It was brought and saved for PVEP $71.5 million and $52 million by the active negotiation with the service contractors in 2016 or $ 227 million in 2015-2016.
PVEP also carried out the negotiations with the banks for decreasing interest of loans with a value of VND 140 billion as well as cutting administrative costs in Corporation office as VND 60 billion and in its member units as VND105 billion.
In November of 2016, PVEP had the active results as: general property was maintained at over VND 152 thousand billion, capital of owner – VND 80 thousand billion, total turnover – VND 27.67 thousand billion, before tax profit – VND 3.24 thousand billion, payment to state budged – VND 6.92 thousand billion.
VietnamEnergy.vn