PVN has exceeded the targets of the first quarter
At the conference on production and business activities in the first quarter of 2018, Vietnam Oil and Gas Group (PVN) informed that from the beginning of the year, despite facing a lot of difficulties and challenges, the group and its member units have deployed the production and business tasks in an effective and safe way, and achieved positive results. The most production targets have been exceedingly completed by 4-15% over the plan of the first quarter.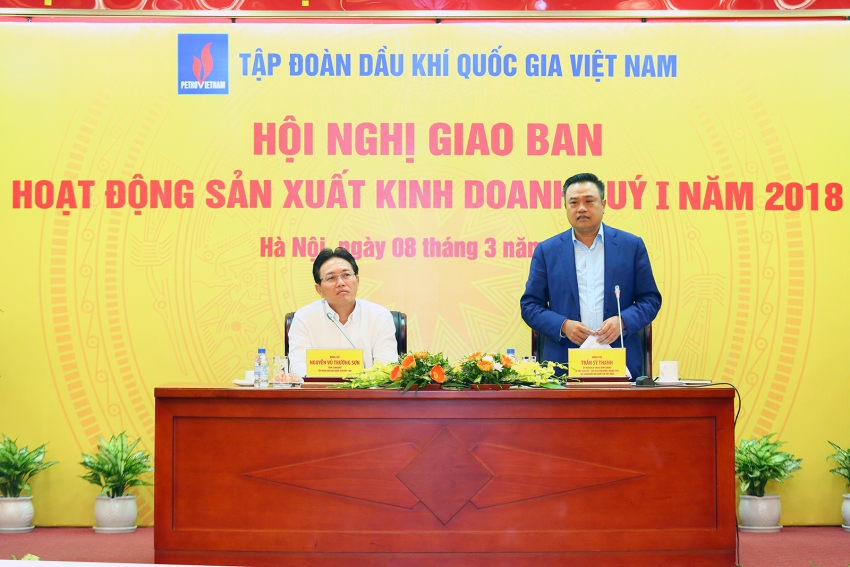 PVN Chaiman Mr. Tran Sy Thanh speaking at the Conference.
According to the information, the production results of PVN in two first months of 2018 were: oil production – 4.13 million tons, electricity generation – 3.56 billion kWh, nitrogenous fertilizer production – 281.8 thousand tons, benzene production – 1.13 million tons. The main financial targets of the group were higher than data of the same period in 2017, such as turnover exceeded 12% of the plan, up 16% over that at the same period in 2017; state budget contribution exceeded 30% of the plan, up 12% over that t the same period in 2017.
Since the beginning of the year, the member units focus on implementing the solutions to carry out the 2018 plan approved/accepted by the Group. The units keep a good production rate and have completed the financial targets, and basically exceed the production and business targets as planned.
In order to complete the production and business tasks, the Group continues to strictly control the development progress of the projects expected to be put into operation in 2018. At the same time, the Group will check, safely and stably operate the oil and gas projects.
The Group will direct and successfully organize General Assembly of Shareholders 2018 in the member units and continue to withdraw the capital from the enterprises in period 2017 – 2020 in accordance with the direction of the Prime Minister.
One of the key tasks of PVN in coming months is to continue resolving the difficulties and bottlenecks of the five weak projects, focusing to speed up progress of the oil and gas projects in Lot B, Blue Whale and thermal power projects as Long Phu 1, Song Hau 1, Thai Binh 2.
VietnamEnergy.vn