On November 2, 2016 in Hanoi, the Vietnam Oil and Gas Group (VN) in collaboration with the PetroVietnam Power Corporation (PV Power) held a cerymony to sign the principle contract to supply imported coal for the thermal power plants (PV Power TPP) invested by PVN.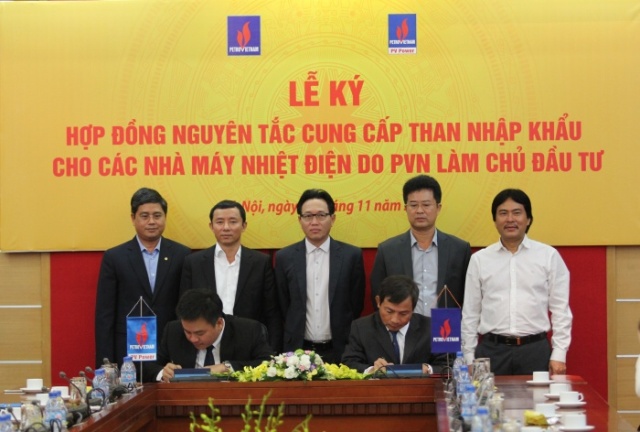 PVN Depyty General Director Nguyen Sinh Khang and PV Power General Director at the signing cerymony.
According to the National Power development Planning in the 2011-2020 period, PVN is assigned to manage investment and operation of TPPs using imported coal including Long Phu 1(1200 MW), Song Hau 1 (1200 MW) and Long Phu 3 (1,800MW). With an average output of more than 20 billion kWh per/year using about 12 million tons/year, these TPPs will contribute an important part to ensuring energy security for the southern region and whole the country.
Speaking at the signing ceremony, PVN General Director Nguyen Vu Truong Son confirmed that the contract signing marks a significant step in development of power, especially coal thermal power of PVN and PV Power.
That, PVN decided to assign PV Power to supply coal for TPPs invested by PVN after serious consideration shows a confidence of PVN in PV Power capable of supplying coal for the large TPPs
Chairman of PV Power Management Board Ho Cong Ky told, PV Power has completed negotiations with 7 international partners and mine owners to sign the framework contracts for providing about 15 million tons of coal per year, a volume enough for PNV.
VietnamEnergy